Schedule Your Fire Sprinkler Service Today!
Fire Sprinkler Service
Our Fire Sprinkler Services Include:
Fire Sprinkler Design and Installation
Fire Sprinkler Inspection and Testing
Five-year- Title-19 Inspection and Certification
Quarterly and Annual Inspection
Fire Sprinkler System Upgrade and Tenant Improvement
Fire Hydrant Installation, Testing and Repair
Fire Hose Sales, Installation and Testing
Underground Fire Line & Valve Repair or Replacement
Fire Sprinklers Systems
Automatic fire sprinkler systems are the most effective method for controlling the spread of fires in commercial buildings. According to the National Fire Protection Association (NFPA), fire sprinkler systems succeed 98% of the time in controlling fires. With their proven track records, local jurisdictions and insurance companies require their installation because they may save lives and limit damage to properties. NFPA 13 is the standard for the installation of sprinkler systems, and NFPA 25 is the standard for the inspection, testing and maintenance of water-based fire protection systems. Both standards have been adopted by the State of California. Title 24 addresses the requirement for the installation of fire sprinkler system.
Cal Counties Fire Protection provides the essential services needed to keep these automatic fire sprinklers operational and to meet the requirements of the state and local jurisdictions. These services include fire sprinkler inspection and testing as required by NFPA 25 and California Title 19 Regulations.
Our specialists are trained and ready to install, service, test or repair your fire sprinkler equipment.
Types of Fire Sprinkler Systems:
WET PIPE SYSTEMS- A really simple and dependable fire sprinkler system that has just a few moving parts such as the automatic sprinkler heads, and automatic alarm valves. Lower costs to maintain and operate.
DELUGE SYSTEMS- For specific protection over an area, where there is a concern of quick fire spreading. All sprinkler heads are open on the fire sprinkler system, and trigger a deluge of water, normally caused by heat detectors, smoke detectors or smoke alarms.
PRE-ACTION SYSTEMS- Installed in places such as museums where rare works are located & needing several triggers such as heat detectors, smoke detectors & smoke alarms before they will enable the water rain down. This helps in the event of unintentional alarm pulls, or triggers.
DRY PIPE SYSTEMS- Normally installed in places where colder temperatures can be a factor and potentially freeze pipes that feed the fire sprinkler heads. There are usually many parts, in creating a dry pipe system which means higher installation and upkeep costs.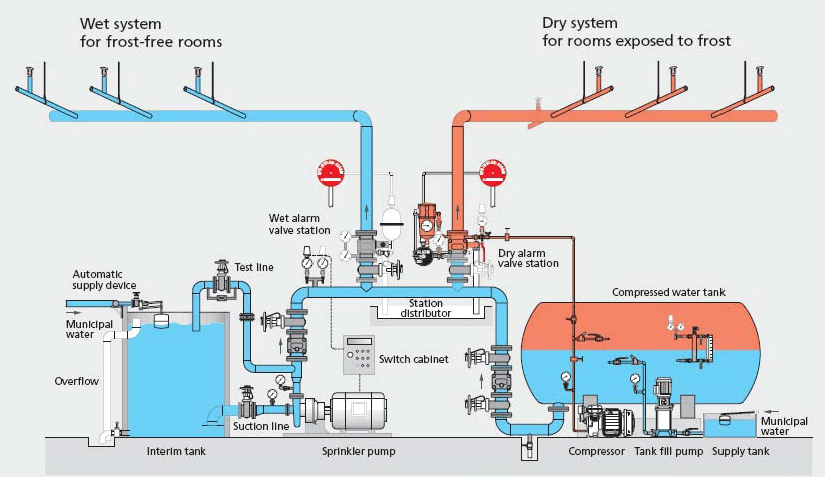 Fire Sprinkler Service
In order to get the right service it is a good practice to know the type of fire sprinkler system you have as there are many different types of fire sprinkler systems for businesses. Call us and we can help determine what type of system your company has and what our fire sprinkler services include. Feel free to call us and we can go over the features and benefits of the different types of fire sprinklers.
We offer Fire Protection Services in Upland, Montclair, Ontario, Rancho Cucamonga, Chino, City of Industry, Fullerton, Riverside, San Bernardino, Pomona, Whittier, Santa Fe Springs, Corona, Anaheim and all Southern California areas.