Complete Fire Extinguisher Services
Fire Extinguisher Service
Fire Extinguisher Service – Maintenance and Testing
In order to ensure that fire extinguishers are available and operate properly when needed, both federal and state certification requirements mandate that all facilities properly inspect, test and maintain their portable fire extinguishers. If there is a fire but you have not received the proper fire extinguisher service, or have the wrong extinguishers, you run the risk of not being able to collect on your insurance plan and possible fines. We also offer fire training classes that teach and certify your employees on extinguisher use. Click here for more info.
Fire Extinguisher Inspections & Service
Portable fire extinguishers are required to be visually inspected when initially placed in service and at least monthly thereafter. These visual inspections, intended to help ensure that each extinguisher is in its designated place and will operate if needed, can be performed by Cal-Counties Fire Protection. Contact us today to find out how we can get your monthly fire extinguisher service set up.
A pressure gauge in the "normal" or "operable" range is not a 100 percent guaranty that the extinguisher will perform as intended. A broken seal, for example, may be an indication that someone has used the extinguisher and discharged a portion of the contents too small to affect the pressure gauge therefore, requires that the monthly inspection verify a number of things including: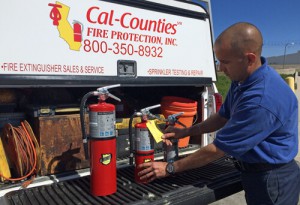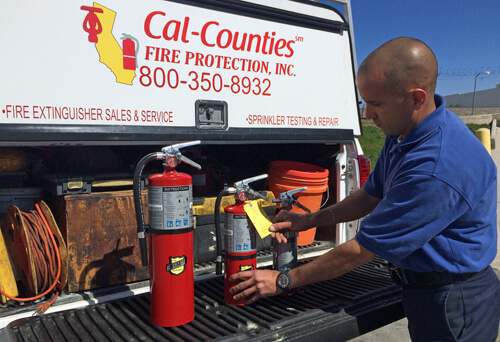 Fire extinguishers are in their designated places

There are no obstructions to access or visibility

Safety seals are not broken or missing

There is no evidence of physical damage, corrosion, leakage or clogged nozzle

Pressure gauge readings are in the proper range or position

Operating instructions are legible and facing outward

Fullness – confirmed by weighing or lifting
Where circumstances warrant, some fire extinguishers may have to be inspected more frequently. Examples of such circumstances might include extinguishers that are oftentimes found obstructed during monthly inspections or extinguishers located in areas where they are subject to tampering, theft or mechanical injury.
Obviously, any problems found during the monthly inspection must be corrected immediately. Some problems trigger a need for full maintenance or even replacement of the fire extinguisher. For example:
Operating instructions are not legible

Safety seals are broken or missing

Fullness can't be confirmed (as determined by weighing or lifting)

There is evidence of physical damage, corrosion, leakage or a clogged nozzle

Pressure gauge readings are not in the operable range or position
Fire Extinguisher Maintenance
"Maintenance" is a thorough examination and repair, as needed, of your facility's portable fire. Maintenance is required at least once a year – more frequently when indicated by a routine monthly inspection. Fire extinguisher service is also required whenever extinguishers undergo hydro-static testing.
Because maintenance is required to include a thorough examination of the mechanical parts, extinguishing agent and expelling means of each portable fire extinguisher, it must be performed by an approved fire extinguisher service company.
Six-Year Maintenance
Every 6 years, stored pressure fire extinguishers must be emptied and have proper maintenance procedures performed. The exception to this rule is non-rechargeable extinguishers, which are required to be removed from service 12 years from the date of manufacture. Again, this maintenance must be performed by an approved extinguisher servicing company.
Hydro-static testing
At certain intervals, fire extinguishers are required to be pressure tested using water or some other non-compressible fluid to help prevent unwanted failure or rupture of the cylinder This is called hydro-static testing and includes both an internal and external examination of the cylinder. Because this testing requires special training and equipment, it needs to be performed by an approved extinguisher servicing company.
Test intervals for some of the most commonly found extinguishers are:
Pressurized water, carbon dioxide and wet chemical extinguishers – every 5 years
Dry chemical extinguishers – every 12 years
We offer Fire Protection Services in Upland, Montclair, Ontario, Rancho Cucamonga, Chino, City of Industry, Fullerton, Riverside, San Bernardino, Pomona, Whittier, Santa Fe Springs, Corona, Anaheim and all Southern California areas.